It is not often you get to witness the first REAL DISCIPLINARY Spanking of a BEAUTIFUL and BELOVED Spanking Star like Amber Wells! This was a TRUE to LIFE spanking I gave her that she knew was going to happen beforehand but she didn't know what I was punishing her for until right before we rolled camera. Miss Wells did get nervous when I handed her the cutters and said "Cut a large green switch. Choose carefully."
CLICK HERE FOR SPECIAL OFFER ON THE TWO 'BUCKET BOY' DVD'S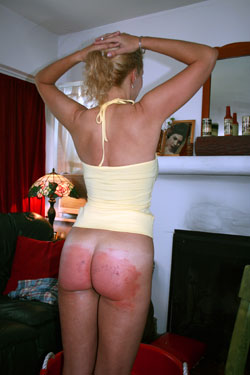 WATCH THE TRAILER
I RESERVE THIS KIND OF DISCIPLINE FOR SPECIAL CASES!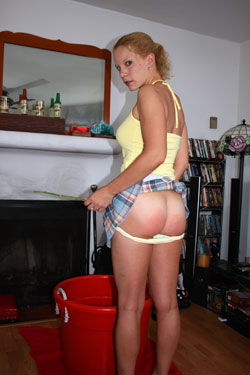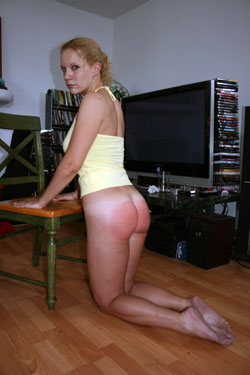 I first used this method on Tiki some years ago. I discovered that Tiki had developed a tolerance for spankings that I decided to address with a bucket of HOT WATER, an EXFOLIATION GLOVE and DEAD SEA SALT. Magically, I developed a way to MELT some of that TOLERANCE AWAY! Because Amber and I had developed a huge degree of trust between us, she was in agreement that the preparation was in order.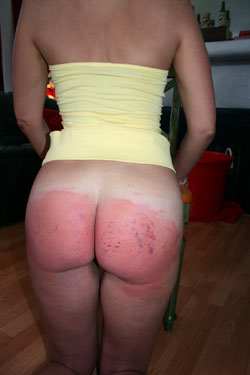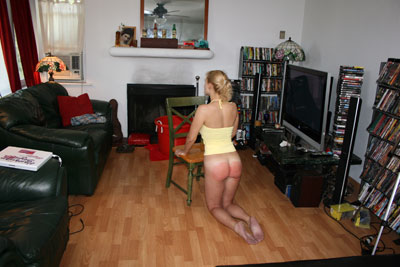 Warning: This is a SEVERE SPANKING SESSION that was CONSENSUAL by two people that have developed a sense of trust. Please do not attempt to re-create this type of discipline. The producer accepts no responsibilty for these actions.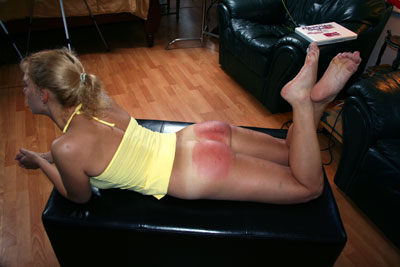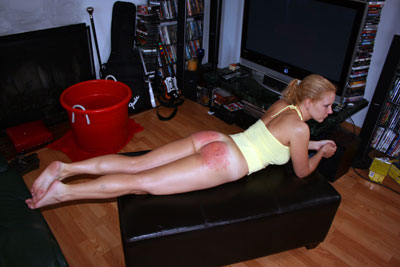 I first had Amber pick a switch and step into the bucket with hot water, which was about shin level. I had her strip from the waist down before entering the bucket. I prepared her bottom with a technique I developed over time. After the preparation process, I give her a fast and severe switching on a wet bottom that had her squirming and crying. I had her stnd with hands on top of head, knowing she couldn't move without jumping out of the bucket. SHE DOESN'T OF COURSE, especially AFTER A SEVERE SWITCHING.

I then MOVED ON TO A SUPER HARD RAZOR STRAPPING IN THE SAME POSITION! HER BOTTOM GOT SO RED IT WAS UNBELIEVEABLE! TEARS FLOWED AS I TALKED WITH HER.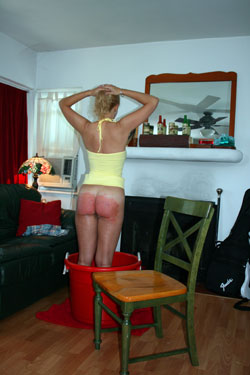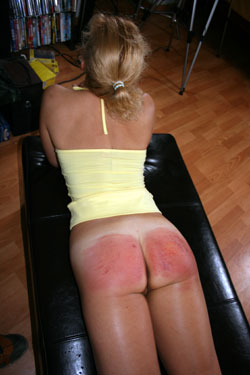 Then, I have her step out of the bucket where I have a chair waiting. I positioned her over my lap for a long hard spaking with a sturdy bath bruhs. After which, I moved onto a plywood paddle where I start slow and deliberately and tell her to "Hold on tight." Because of the trust we shared, Miss Wells is then given a super fast set with the same implement. Knowing I would be remiss if I did not use my hand, I did just that - with GUSTO. I believe some of the best reactions came from my hand. You decide.
I then moved onto an acrylic paddle - WET AND ACRYLIC... QUITE A COMBO!
NEXT... I had made a special strap from a belt for just such an occassion. The sound WAS INCREDIBLE!
And then, I moved onto my super severe strap that has made so many women tremble and cry in the past.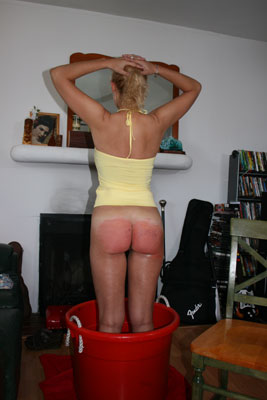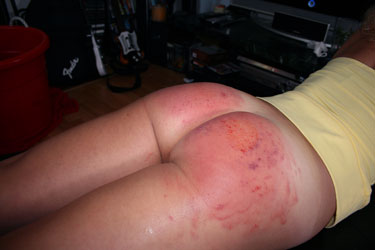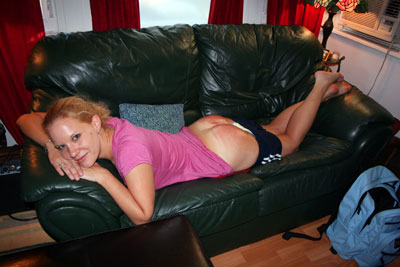 THIS WAS A VERY SPECIAL SPANKING. A VERY SPECIAL DAY... ONE I THINK AMBER WILL NEVER FORGET... NOR WILL YOU!
39 minutes in length!
+bonus slideshow and bloopers!