The wait is over! You wanted to see a lindsay 'wanna be' get a real disciplinary spanking! here it is! Cheyenne got 2 dui's and was smacked by the judge by 'time served' and 'house arrest'. She was due to graduate with her class soon. only problem was this... she was on house arrest! her corrections officer, that i have known forever. cut a deal with her. come see me... she can shave off enough time to graduate with her class!
This is one you will be talking about for a long time!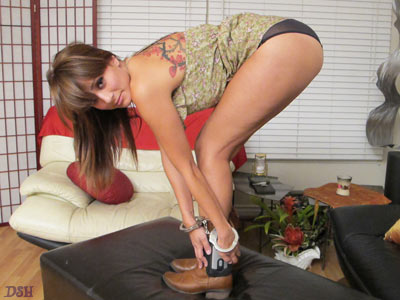 Cheyenne is brought to me by her corrections officer in police issue pierless handcuffs and ankle arrest monitoring device! I sat her down and let her know that her freedom wasn't free. It would cost her a severe spankng. She was given chance after chance to change her mind. She agreed to be unshackled and spanked hard!
She was put in the corner where she was face to face with a beautiful painting that represented freedom (her freedom).
she was taken to a new kneeling rug (That you will be seeing more of) and Told to strip - leaving only her flower and cowboy bootos on. The view is lovely and her apprehension a delight!
I took her over my knee and you are afforded the view of a 'never spanked before' beauty! I don't mess around and get down to business with a bath brush spanking on a fresh bottom. She squirmed and cried out.... got the 'bullseyes' that always result from good paddlings! She was told to knee on the 'd' rug and to wait for her next spanking.
when I returned i pulled her up and over my knee for an intense hand spanking that starts the beginnings of true sobbing. this was one that really got her attention! then back again to kneel and wait for more!
now she was taken over my knee for the "JR" huge hairbrush that really makes her cry hard! It really will be one of those spankings you watch over and over again! This brush really teaches a lesson!
I was going to use a leather paddle next ( last ) but convinced her a tick double strap would be "better" for her. I guess when I said" better" she assumed that meant less painful...(wink) I gAve her a rocking strapping that really got her crying.
I do a little fly by interview where the full view of aftermath is in all it's glory . She promised to never do anything bad again to get her a return trip.
I would expect to see her
Back!
This is amazing start to finish!
52 Minutes in Length!