65 Minutes!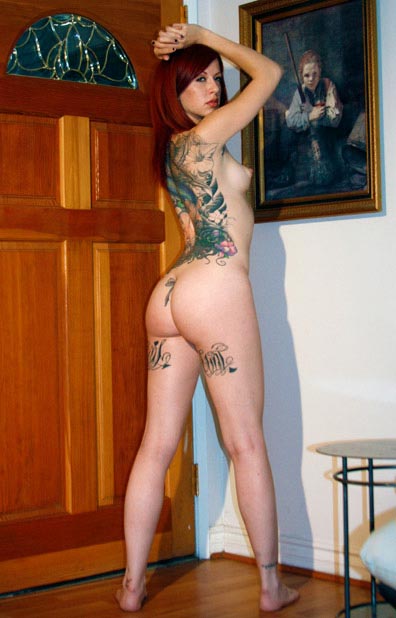 Here is an interesting twist in the whole tattoo debate. I was approached by the beautiful Crash about experiencing the spankings (mine) that she had been hearing about. I told her candidly that a lot of spankers are NOT FANS of tattoo's. She said one thing that made me stop and consider this shoot. Crash said "Yes, but my spankings are beautiful." That was when I decided to take this PUNISHMENT and make it personal from all the non-fans of tattoo's. She understood that in essence you all were making a statement.
I did allow Crash a rebuttal about her body art. I covered Crash from her first tattoo... to her last in a telling interview regarding her tattoo history and HER SPANKING HISTORY. This BEAUTIFUL girl is well spoken and reveals a lot of personal information in this awesome interview.
That wasn't the only reason Crash was punished though. I tried to call her and book her two weeks before....no call back.
I finally did book her she had written the WRONG DAY down and almost showed up 3 days early.
We had a 12 noon shoot scheduled but she wrote down 1 p.m. So as any of you out there would have done in my shoes, I ADDED ON TO HER PUNISHMENT!
This is a 'Bucket Boy' shoot as well. Anyone out there familiar with this type punishment knows that it is SUPER SEVERE. Only the fifth such punishment spanking I have done like this dating back since Tiki.
I put together a list of implements that I pulled out that morning. Sabrina got her special Dead Sea salt scrub ready. The bucket prepared. At noon no crash...she was going to seriously get it!
We sit down for the interview. Afterwards I have her take everything off and go to the corner.
I lead her to the bucket after she had time to contemplate her fate. Her bottom is prepared in a way to make her bottom feel every spank...swat and stinging bite!
I had picked some special switches that morning. I started with a switch that left angry red weals on her pert bottom. Her reactions... her cries... will be music to your ears! I then used an implement Audrey Knight described as "the worst of all" from the DVD 'The Time has Come'.
You see crimson tram lines appear and you also see her shoot me a look that says, "This is SO PAINFUL!" I then moved on to a riding crop (without the leather end, which made it more like a cane.) Then on to two of the most shock & awe straps I own - the antique razor and my infamous black & white razor strap!
Out of the bucket and over my knee she went. I started with a HARD hand spanking on her already super sore buns. She brought a girlfriend with her to watch her spanking and I quickly put her to work by having her hand me implements. Next, the hairbrush sent by J... and the paddle made per my spects by my good buddy Keith Jones are used on Crash! You see her fight turn into her trembling like a leaf. "You are the first one to ever break me she confided."
It was not over yet. She was put back in the bucket for a bent over paddling with 3 more SEVERE paddles. First my large paddle with wholes that had blistered bottoms for over 11 years on my films. Then the acrylic paddle which had her shaking so hard I though she would fall. Last but not least, the large lexan paddle supplied by the craftsman Caneiac.com!
There is an after interview.... a bonus facial reactions segment and fun outtakes!
65 Minutes in Length!