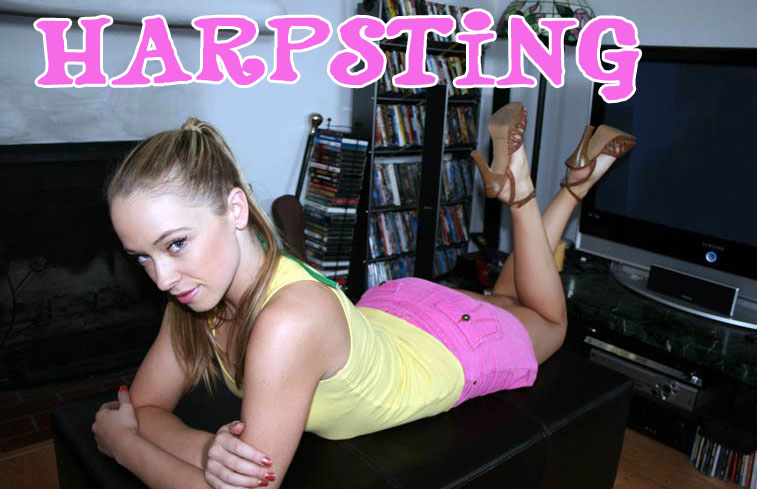 Harper is an interesting case. You see she was referred to me by another model, who had been given a first ever spanking by me till tears. Anyone seen 'Punishment Parade'? The beautiful brunette 'Taylor' is her best friend! Taylor seemed to have gotten a lot out of her first spanking (Harper said "She always talks about it.") When she showed up for a bikini shoot one day without ONE bikini in her bag, she felt it was time to make a call to me for a little help. This was Harpers first spanking as an adult. She does tell a very intersting story about being PADDLED frequently by her mom when she was young. She admitted she was traumatized by the paddle. This is why bare bottomed OTK hand spankings are used to teach the bikin clad cutie.
I sat down upon her arrival and gave her a good talking to, that had her nervous to say the least. I had her strip out of her clothes and into a bikini before her reflection time. Then in front of a guy friend/photographer, I proceeded to give her a long and hard spanking, as she does her best not squirm as she listend to my scolding. He watched and seemed amazed to see the highly touted bikini model, with a bright red money maker! This spanking is one of those dreams come true. You will NOT see Harper on ANY other spanking sites! She came here TWICE!
SAINT PADDY'S DAY POACHING
On Saint Patricks Day, Harper was in town to party with her friends in Santa Monica. She knew she had a shoot the next day. She got way too "HAPPY" the night before...AND JUST BLEW OFF THE CLIENT SHE WAS SUPPOSED TO MEET! She felt horrible (I guess) and called me saying she deserved to be spanked. I was scheduled to shoot Tilly that night (but for her I would make an exception...wink) Since she committed one of my 'pet peeve' crimes, I put my three minute egg timer to work. I explained that since in Ireland poached eggs were a staple, and since she literally poached the time of her client, that her BARE BOTTOM would know the feeling of being POACHED. Another hard OTK hand spanking for this naughty model! You will love it!!
46 Minutes in Length!