A Real Life Disciplinary Spanking Of A DSH Model!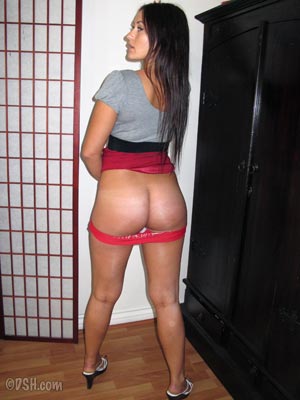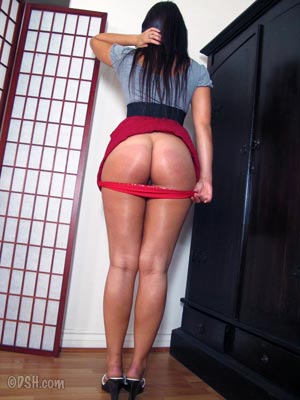 What am I going to do with our "Rude Girl" Natasha? She admitted needing discipline in her life while visiting for her first punishment spanking. I gave her some very concise rules. She disobeyed me right out of the gate. I set up a disciplinary spanking for her and told her to get tan lines for it as a test. She failed miserably by sunning in booty shorts and having the sun burn her bottom instead of me. I got a call from her one night saying that the person (I said to stay away from mind you ) had left her in a desert town hours from home. This spanking uses the concept of the dangers of disobedience. Natasha shows up outside and walks herself inside bare bottomed to wait by a chair until I arrived.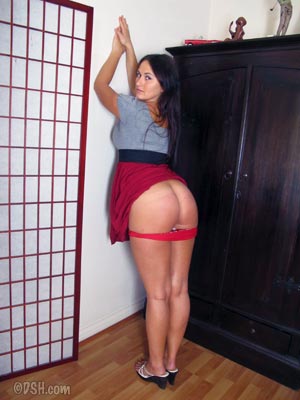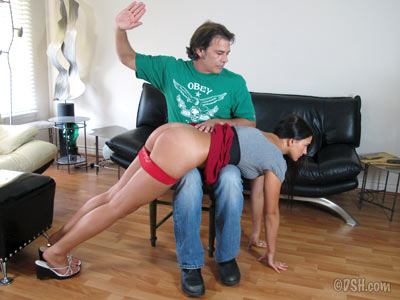 I don't waste a lot of breath with her scolding and pull her across my knee for a very strong OTK hand spanking. Her tears began to fall immediately as they puddled on the floor in front of her.
I then send her to the corner to reflect on that burn...only to call her back for a fast and hard hand spanking and send her back to the corner.
Only this time I tell her "take everything off...now". She does as she is told and once again called back to me fully nude to see a table with some wooden nightmares in front of her. I give her three intense spankings as she chooses once again the order. YOU WILL LOVE THESE OTK SPANKINGS!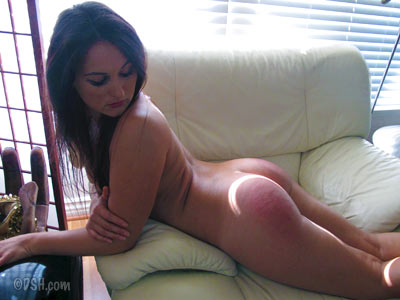 A nude and sore Natasha now awaited the two fearsome straps. My black-n-whites that have taught MANY a girl over the years. Natasha can't believe how much these straps "SUCK!" When I am finished strapping her she asks if we are done. I said " One more". She tried to sneak out the door but I cut her off at the pass. I give her a hard classic paddling as she grabs her knees.
This spanking movie has everything anyone searching for my purveyor of punishment style seeks... and then some!
45 Minutes in Length!
In payment details- Make sure you include the email you want the download link sent to.