This is by far one of my best spanking videos to date. I am willing to bet the farm on that! I always manage to get models to confess to real reasons why they should be spanked. This is one of those times!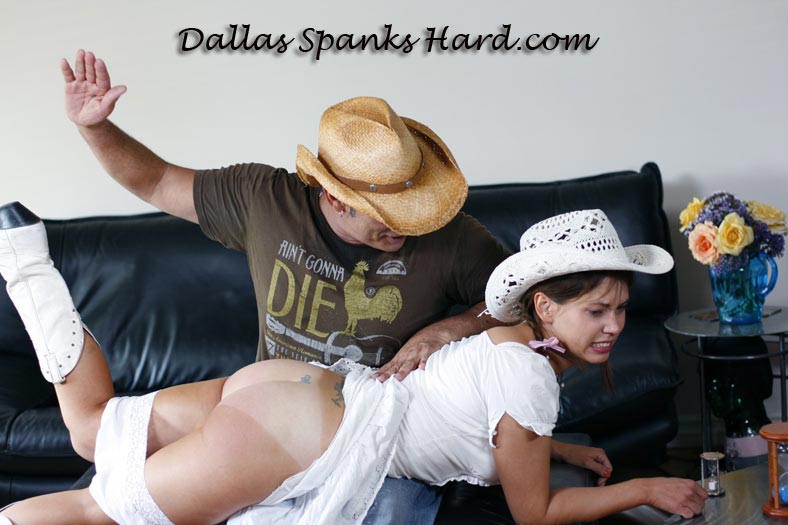 We made this a western garb themed video because after seeing a picture of me in a cowboy hat once. Audrey asked if I would wear one on camera for her spanking. I agreed... only if she dressed in a cliche country western singer outfit. She too agreed. What you see next will soon be a classic. Now, I am not one to toot my own horn ( well maybe sometimes...wink) This folks is really THAT GOOD!
I sit her down and chat about some items that need addressing. Like leaving the gas pilot spewing gas ALL WEEKEND! Can you say KAAAABOOOM! Well, this is the sound my hand and implements make connecting with her upturned bare backside.
I start with a 15 minute spanking ( I say the timer is 12 minutes as not to scare her ) diabolical I know! I mean this is 15 minutes my style! I actually got a large blood blister on my hand from her teflon ass!
Next I give her a good old fashioned belt whippin and razor strappin. Did I mention she cries hard through out this film? Well, I just did.
I even have a few curve balls ( 10 hard extra ones she finds out afterwards is from a close friend. With friends like that you don't need enemas... wink.)
But that is not all! Not to sound like that Ginzu knife commercial. I take her back over my knee for a hair brush spanking from HELL!
Then on to CLASSIC PADDLE position for a paddling with my infamous PADDLE with HOLES! A plexi-cane and my tride and true "Thumper" paddle strap.
I give her a choice of my LEFT hand ( 30 hard ones ) or 10 with a paddle to finish. She chose my hand...she found out that I am am ambidextrous afterwards! Unlucky for her.
I hug her and send her to bed as she was staying with us for a few days.
A dream come true for HARD SPANKING of a BEAUTIFUL Woman
50 Minutes in Length!