When Kat St. James mentioned in passing that her tolerance was now off the hook, she suggested a 'spank off' scenario. I said "Hey, slow down cowgirl, first you need to get by the bucket." She said "The bucket...what's that?"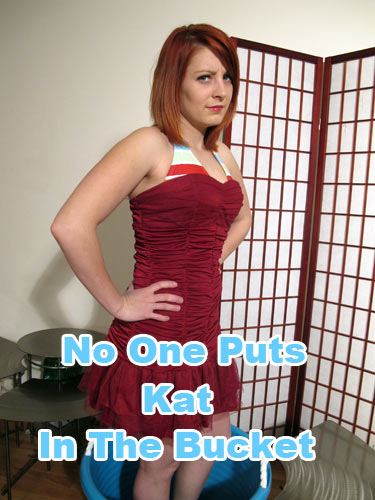 BARED AND PREPARED FOR THE STING OF HER LIFE!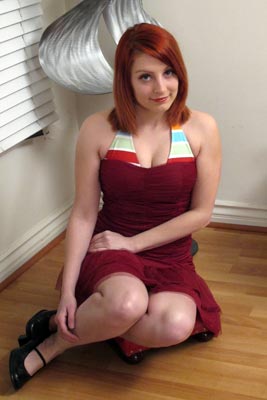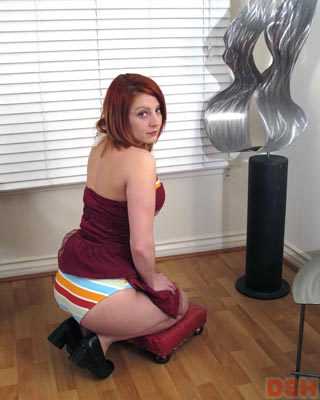 I scheduled Kat to be at our shoot with a hard call time of 11.a.m. She contacted Sabrina and said she had to return home because something was left behind. She showed up at 12:40 p.m. I found out the blame wasn't even hers and had to sit her down about that. I informed her that a call time was the responsibilty of the model. I decided that for this, I was going to add on to her punishment. Imagine her surprise when I appeared with a large freshly picked switch! Imagine her on her knees, learning to peel the switch to get to the fresh green sap. Imagine her getting her first ever peeled branch switching.... On a dead sea salt prepared bottom no less!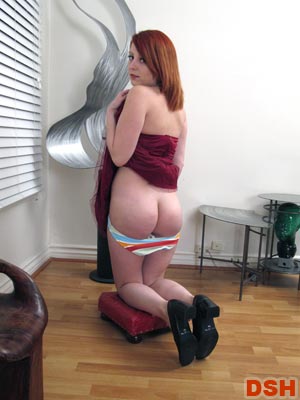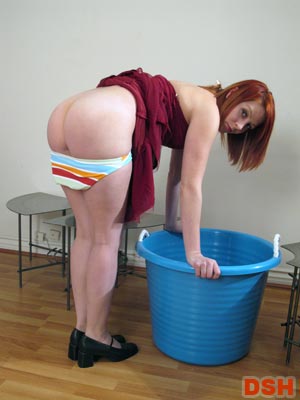 I not only punished Kat for being late mind you. I have been known to find out things that warrant spankings in their personal lives and punish them on camera. It seems to mean more to everyone if these spankings are REAL!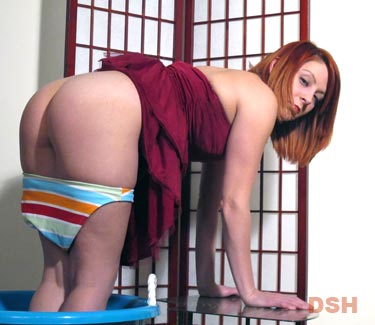 From the opening preparation to the first stinging bite of the switch, gone was Brat Kat that day. She had no problem letting me know how much each and every implement hurt.

After the switch was worn out, I had a good assortment of stingy evil lined up for her. I made a point of stopping to resoak and even salt scrub her bottom in between the the thin cane (love that noise) and super severe acrylic tube cat! She felt each implement was bad...UNTIL SHE GOT THE NEXT! With the bucket, the preparation of the skin is as key as the spanking itself.
The theme of punishment this day was 'PUTTING YOUR LIFE OR HEALTH AT RISK'. This is a biggie, so you will see that I put forth every effort to make her remember our talk and spanking this day.
When I summon her from the bucket her bottom was a still stinging ball of fire (well two technically). This DID NOT hinder the spanking or intensity one bit. I started with my hand and rekindled that fire, spanking her in hard measured spanks and then machine gun bursts. I never allowed her to get into a rythmn of the spanking. It was after all... A Real PUNISHMENT BLISTERING.
After my hand came two of my favorites for over the knee, wet spanking discipline. The red acrylic paddle and then the one that Kat really feared... The wooden hairbrush!
KAT ST. JAMES IS ONE OF THE CUTEST GIRLS IN SPANKING TODAY. HER ACCEPTANCE OF REAL DISCIPLINARY SPANKING FOR HER OWN TRUE PERSONAL BENEFIT IS AN AMAZING THING TO BEHOLD!
WHEN SHE WALKED AWAY FROM THIS PUNSIHMENT, SHE GLANCED BACK AT THE BUCKET,
KNOWING SHE NOW HAD A NEMESIS.
YOU WILL LOVE KAT IN THIS FILM! SHE WAS PETITE ENOUGH TO SIT DOWN FULLY INSIDE THIS BUCKET... MAY THE LOVERS OF SPANKED SPINNERS EVERYWHERE REJOICE!
61 minutes in length!
Bonus!!! I SPANKED KAT BEFORE SHE LEFT, OFF CAMERA (OR SO WE THOUGHT!) FOR SOMETHING VERY PERSONAL BETWEEN US. Sabrina had left the face camera running!