This is BY FAR the most SEVERE PUNISHMENT session Amelia Jane has experienced to date HAND & IMPLEMENTS DOWN! REAL TEARS? REAL REASONS? REAL PUNISHMENT WHAT YOU SEEK? You get it all here folks! Because Amelia Jane and I have a REAL understanding about her need of discipline. When she needs a REAL ONE...SHE KNOWS WHERE TO COME! This was a REAL SESSION mixed with Cheerleader fantasy...stir quickly. YOU GET SPANKING MAGIC!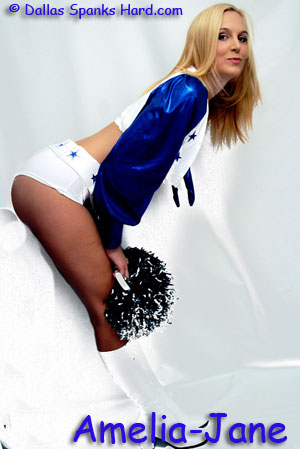 Amelia shows up expecting a cheerleader try out with that team from Texas. How fitting huh?What she got instead was a spanking she will never forget! Since she seemed to be a little too confident about her abilities AT FIRST. I had her give me a sample of her routine. I pulled down her SUPER SHORT SHORTS and with a fresh switch get a more lively routine. Boy did she hate that switch!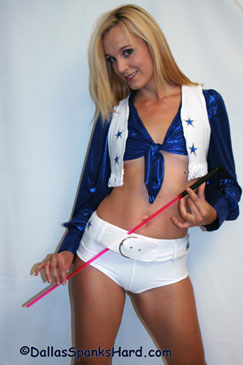 Then a plexi-cane is produced for some awesome and very painful strokes! " You know this is far worse than a real cane?" She quipped in that proper British accent. I give her stroke after stroke as she cries, then begs for it to stop!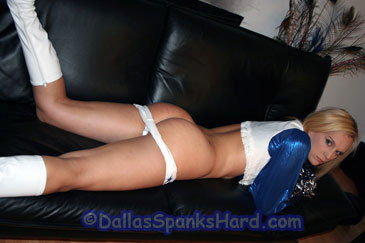 It is now that she gets OTK spankings with the viatmin E soaking into her skin! 3 different spankings with the 3 minute timer making sure she is PROPERLY POACHED! These spankings produce the tears I sought. The scolding for not taking care of herself while here PRODUCED THE REST.
THEN IT IS ON TO SOME VERY NASTY IMPLEMENTS!

I take her over my knee for a plywood paddling as she bucks and strains to get off my lap! She flies off as the last swat fried her bottom with a sizzle!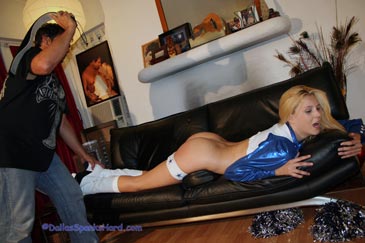 She next gets a dozen strokes with my ruler strap ( which she referred to as " The Toy Strap") She learned that that was a mistake...A HUGE ONE! I march her to the sofa and have her lay face down. The vitamin E comes out again. SO DOES MY FEARED RAZOR STRAP! I give her a DOZEN as once again the tears flow. She is out of breath. She pants and cries as I scold her again.
Then. I give her a paddling with the paddle I have used so often to TEACH. I have her put her hands on her knees and give her swats that have her drop to the ground in pain. I have to literally hold her up for the last hard swats. She is sent then to wait to be released for her plane trip early the next morning back to Jolly Ol' This was a funny, cute and REAL DISCIPLINARY Spanking YOU WILL HATE YOURSELF FOR NOT HAVING! I PROMISE YOU THAT MATE!