This is a very special video to say the least! After A LOT of requests the LONG AWAITED REAL LIFE SISTERS shoot is available on DVD! . This is Kailee's SESSION she has ever received. How do I know? She told me of course!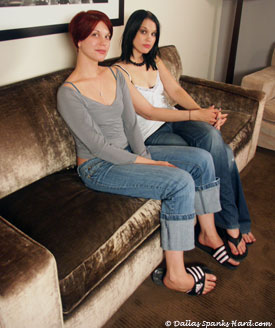 Seems that our lovely flower Lily was getting tired of always getting spankings from her sis. She called me up one night ( a little tipsy ) and asked if I would help rectify this painful situation. I agreed...not mentioning the fact that she would be spanked hard by me as well. When they arrive and I sit them down. She is made aware of this add on.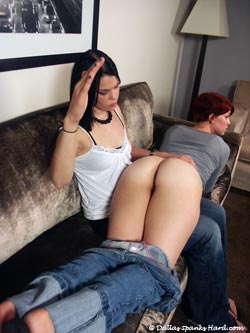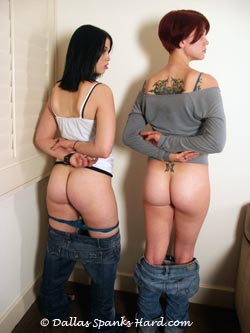 I send them both to the corner to await my individual summons ( bare bottomed of course!) I call Kailee first. I take her over my lap and give her a VERY HARD hand spanking. Call it a warm up if you wish.She goes back to the corner afterward with a cherry red bottom. She whispered " You are so screwed" to Lily as she made her way to my awaiting thighs. She was referring to the heat she was still feeling from her spanking. I blister Lily which has her rocking, bucking, and squirming as I finally let her up and she stumbles to the corner with her jeans still around her knees.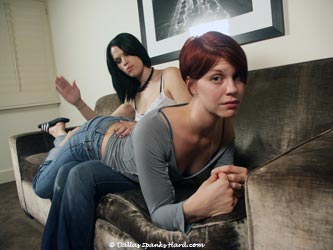 At this time I have to run out for a head cleaning tape. I shot 5 models om this day. While away and after a stern warning to stay in the corner and wait for my return. Kailee decides that Lily needs a little taste of her own hand. She blisters her own sisters still cherry red buns ! I walk in and kailee throws her to the floor.
I let Kailee know without any doubt...THIS WAS A HUGE MISTAKE!

I get out a bench and have Kailee now starting to regret her actions ( but too late to make amends) as I have her strip from the waist down. She lies down on her tummy to reflect on her poor decision.
I start by putting gel on her bottom and give her a SUPER HARD spanking on her glistening cheeks! She winces and squints as I continue to REDDEN HER BOTTOM with gusto! I let her take it in as I gather my arsenal of implements and lay them on the couch. I re-gel and start with a very severe and heavy paddle-strap. She cries out ...then on to a HUGE paddle strap I call "Thumper". It's blade covers the broadest part of her bottom. When I start in she jumps from the weight and force from this bad boy! I move to a short stiff razor strap. Then on to what I refer to as "THE STRAP FROM HELL" My large stiff RAZOR STRAP! She scream out as this finds it's mark over and over again!
The FINAL implement is not for the faint of heart. Kailee feels sometimes that a disciplinary spanking MUST TEACH HER A LESSON. She asked that if it looks as if her bottom had all it can take to move tho the back of her thighs. I agree as I introduce her to "THE QUIRT" ! A member sent this to me to be used on Rebekah ( a woman I used to punish in real life and finally worked for me a couple of times) It is SUPER SEVERE for a bottom. Tender thighs? Forget about it! I have her sister hold her tethered wrists. I give the back of her legs full forced strokes with this SUPER NASTY IMPLEMENT! You will see and hear Kailee at her most contrite reactions EVER. I have her walk to the corner where you see her whole body trembling. I have her stand there afterwards. I then console her sister Lily who broke down in tears watching her sister punished like this that she was responsible for!