TWhen Kat St. James decided that it would be fun to taunt me online...then in person. Challenging me to ""see if I had the strength to spank her ( since I was so old and frail now ). I told her that our shoot would settle that once and for all! When she showed up with a 'SPECIAL' t-shirt she created. I was determined to show her the error of her ways! WITH HAND AND WOODEN IMPLEMENTS!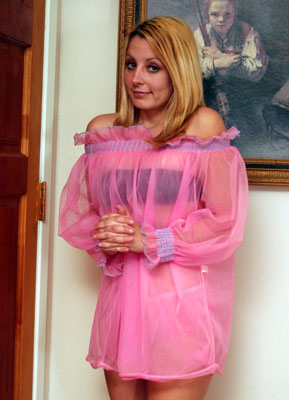 In walked Kat. With silver 'moon pants' that were big in the 80's and a heavy jacket. Under the jacket she revealed a special t-shirt she created "Dallas Spanks Soft" it stated. She even created some special artwork to go along with it. She proudly taunted me again....KNOWING SHE WAS THERE FOR A BLISTERING! Have to admire her spunk. Might as well had shown up with a can of gasoline.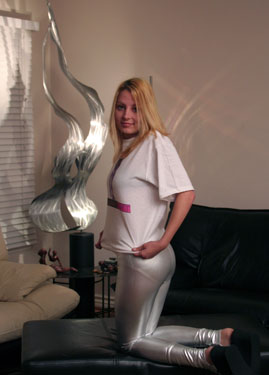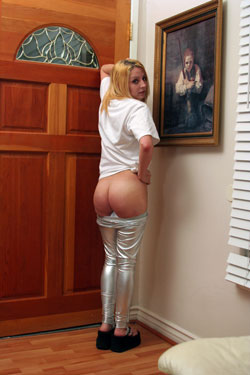 After a little sit down and discussion about why she seemed to 'FLIRT WITH DISASTER' even before a spanking. What I got was more lip....more flip. So I put her in the corner (bare bottomed) and let her think about all the taunting she had done in the most cavalier of ways.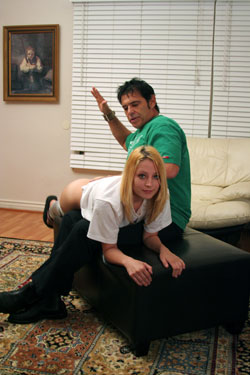 I had enough and saw nothing in the slightest way to keep this spanking from beginning. I lead her to the ottoman and started with a HARD SPANKING on her silver upturned bottom. As she again began her cocky ways...down came her tight pants. Now I started on the bare. This seemed to get her attention. Especially as I picked up the speed and strength of the spanking. Her bottom was on FIRE. She tried VERY HARD not to show that. Before her bottom burst into flames. I decided that since I was from such another era. I would put her in something more ERA SPECIFIC. Namely a chiffon nighty... see through bottoms. Hey, I know what you like!
NOWNow Came Clothes Brush, Bath Brush and Paddle!

I have an antique Clothes Brush that Sabrina found online. It was circa 1930's and light but dense wood. After more time in the corner in her nighty. I lead her once again to a BARE BOTTOMED OTK session with her bottom soaked with vitamin E oil! The way she bucks and squirms is awesome. She thought that was bad until...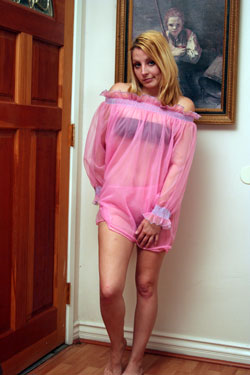 I take her over my knee and give her a SUPER HARD and long session with a VERY HEAVY BATH BRUSH! I mean this spanking was one of those that the traditional OTK brush lovers will watch over and over. When you add the fact that TEARS came at the end of this intense paddling. It makes for the perfect PUNISHMENT SPANKING! You will love the way I have her reach back as she was on her knees and rub the vitamin e oil onto her own cheeks before this spanking as well!
I was NOT THROUGH. I decided I was going to "school her". Having her bend over a 1940's school desk. I bare her and put my large wooden paddle with holes to work! HARD SWATS make her squirm and fight to remain in position. She is interviewed afterwards as she promised to not write checks her mouth and bottom couldn't cover. An apology was the icing on the cake folks!