When the gorgeous Crash contacted me she said " I am very naughty...I need one of your spanking punishments" You have to admire her spunk! I did candidly offer some of my customers views on tattoo's. She said " Yes, I have tattoos...but my spankings are beautiful". This got me thinking. Why not punish this pretty inked girl for getting so many tattoos? A personal spanking from my customers that don't like them to her. A SUPER SEVERE SPANKING at that!
I told her that what I had in store for her was amongst my most severe type spankings I administer. She repeated once again " I DESERVE IT" So I once again for the only the 5th time ever prepared the BUCKET!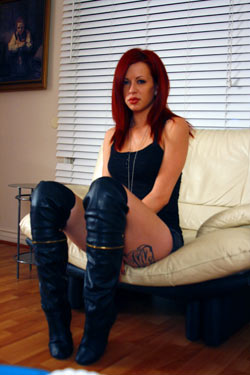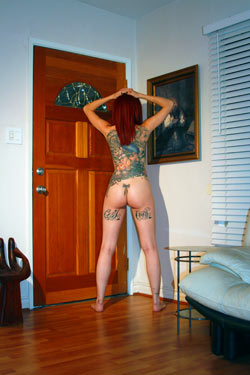 As Sabrina and I awaited Crash to show at her 12 noon call time....12 became 1 p.m. ( being late to a spanking shoot ...not a good move ) Crash had made some other scheduling mistakes as well. So I intended it to be a little of a business related disciplinary spanking as well! She showed up with a pretty female friend to watch her blistering. She watched the entire spanking...more like drinking it in.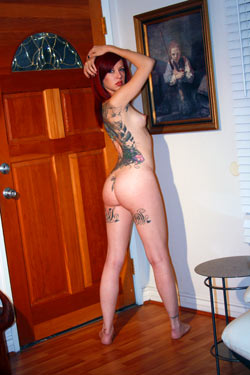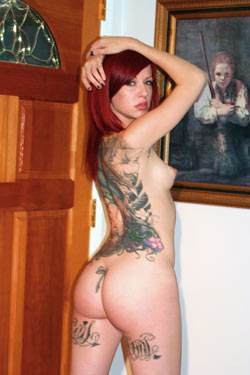 We start off with an interview. I speak of the why's and where's of her tattoo logic. I allow her rebuttal. I speak to her of spanking...and why she deserved this spanking. Afterwards I have her take everything off and go to the corner. I ask her to impress me as to the proper way to wait for a spanking. You can see she looked great waiting!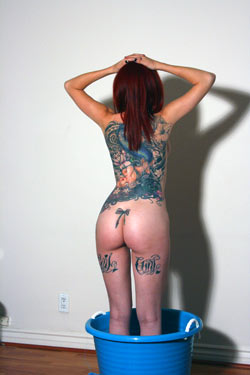 I prepare her bottom with Sabrina's dead sea salt solution. Wet and smooth her bottom is prepared. I picked and prepared a switch to start with. The red lines against her skin is such a great start. Then another thin cane is used. I move on to the tube whip ( Audrey Knight's belief was the worst of all ) Then on two a riding crop I purposely removed the leather end from. It became a stiff nylon rod! I end the first bucket spanking with two of my most feared straps! The reaction both face and body are a marvel to experience! YOU WILL LOVE IT!

Next I summon the already SUPER SORE young lady out of the bucket and over my knee. I start with a HARD HAND SPANKING! Afterwards I have her friend hand me implements to use on Crash. The LARGE Hairbrush is next provided by my GOOD FRIEND J. ( Thanks buddy!) This makes her entire body quake and quiver. I find her body tension as one who is fighting the spanking ( instead of accepting it ) You witness her complete breaking. She is shaking to her core...no more fight! Then the paddle I designed with the help of my pal Keith Jones. This is a super stinger based on the Black Paddle Tanya Hyde lost and was given the intense strapping in the DVD 'Wet" for. Crash was now lying there with a sore SWOLLEN BOTTOM... knowing she was going BACK INSIDE THE BUCKET!
I get Crash up from her tummy and lead her back to the bucket. I explain that this spanking was designed the day before she arrived. She would get the entire spanking...regardless of how swollen her bottom was.
When I showed her the next three implements she shuttered and got a little weak in the knees. My large paddle with wholes that has been used in some of the most memorable paddlings ever recorded was first up! I have her bend over in the bucket and grab on to the lip. I paddle her so hard that her shaking was really starting to show. When I move on th the acrylic paddle ( the one shown above) she shakes so violently I had to hold her in position! Next my huge LEXAN paddle was so intense she actually lost count. " You spanked the numbers out of me sir
I have Crash lie on her tummy for an after interview. She has a hard time keeping her eyes from looking back at that swollen bottom of hers!
This video is 65 minutes in Length!
It has Special features like a FACE LOVERS all facial reaction segment! OUTTAKES! This includes a SLIDE SHOW of the BEST photographer moments of this AMAZING video ! You will adore this beautiful spanking and this beautiful girl!