When Abigail Whittaker finds out I have summoned her. She manages to have Audrey Knight come to watch, or so she thought! After arriving and frolicking in the pool together. Audrey learns that her fate is that of Abigail's fate as well!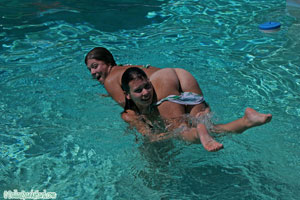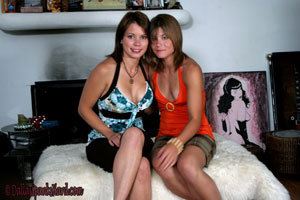 In this DVD...I take care of Abigail's behavior problems. Boy... do I! Audrey was only too happy to watch her real life spankee submit to 3 three minute spankings on an "e" soaked bare bottom. GET THIS... I SPANKED HER SO HARD WITH MY HAND. WELL, HER BOTTOM ACTUALLY BLED. Something she said "Never happened before!"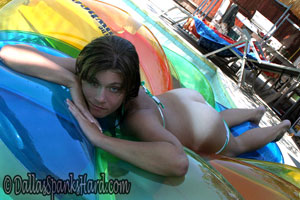 The fun part was bringing them in from the pool. I march them in one at a time. Now Audrey was pissed when she found out she was getting a spanking as well. When I had them stand in corner time. Audrey took it upon herself to spank Abigail when I stepped out... BIG MISTAKE!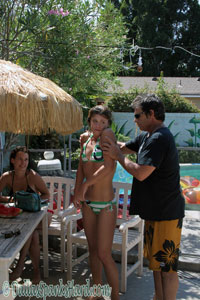 The spanking I gave Abigail was SO INTENSE. She took a nap during Audrey's punishment... and didn't wake up until morning. She did not want to watch her DISCIPLINARIAN GETTING SPANKED. UNDERSTOOD THIS ... She would get a little extra the next morning though!
Abigail ended up getting SPANKINGS on TWO back to back days!

When Abigail awoke. The birds were singing... the sun was hot. Then she remembered " My punishment wasn't over!" Soon my STRAPS were SINGING....and her bottom was SCALDING HOT! I promised Audrey I wouldn't use wood since her bottom was raw from her hand spanking... I kept my word!
I brought her in from the bedroom. I told her of her NEW CONDITIONS for falling asleep. I get out the "E" again! I use straps gusto! I actually have her kneel and hold out the timer in front...balancing. I use that nasty ruler strap... HARD... FAST... Abigail actually said " I can't!" I still finished as her bottom gave off a heat that made us all have to run for the pool afterwards. THIS IS A BLISTERING I THINK SHE WILL REMEMBER FOR A LONG TIME!
THIS IS A 60 MINUTE VIDEO THAT HAS IT ALL! THIS ALSO INCLUDES HALF OF THE IN DEPTH 15 MINUTE INTERVIEW WITH THIS REAL LIFE SPANKING COUPLE! YOU WILL WANT TO WATCH THIS AGAIN AND AGAIN! .