58 Minutes in Length!
The Mens Magazine SUPER MODEL is SPANKED TO TEARS in this AMAZING MOVIE!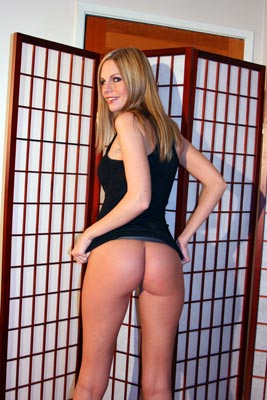 This is one of those dream like spankings. You will rub your eyes in wonder as you watch this super modelesque beauty (complete with over confident demeanor) taken down a few pegs.
When Sabrina got wind of this , knowing I had known Mr Lee for many years through the martial arts world, she approached him with an idea that might be beneficial to everyone... a visit to me.
Amy showed up at my door thinking she was there to give me a private yoga lesson. What she got instead was a lesson of her own.I sat down and pretended to be asking her questions...background...years instructing etc.I finally broke it to her that she was not there to teach...but be spanked... in order to save her job.
In Europe many of the popular 'Hot Yoga' classes are done in the nude. I sent her to change into this uniform for her class with me. Fully nude, she returned and knelt on a pillow before me...waiting.I took her across my knee to start, until her bottom was glowing bright red. I then had her hold the pose in certain yoga positions as I used implements on her, causing her muscles to quiver. Her form and beauty are truly breathtaking.I continued to spank her as she broke down in deep sobbing and tears!
Nude... Supermodel Looks... Real Tears!
58 minutes in length!