I was of course thrilled when I found out Penthouse Magazine's Pet of the Year 2005 Martina Warren was exhibiting some naughty behavior in her boyfriend's eyes.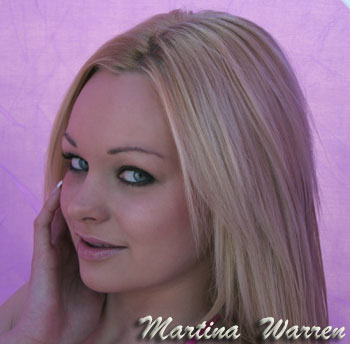 She shows up for what she thought was going to be a personal fitness training session. Well...let's just say this... She was trained this day! I sat her down and had a little enlightening chat with this gorgeous blonde. Seems she had been given a SUPER expensive gym and social club membership, only to have gone ONCE.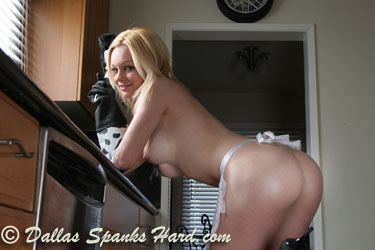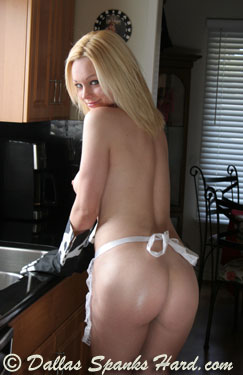 She made the typical excuses... my car is acting up, etc. I told her that it was one spanking she would get.... OF THREE total that afternoon! Seems she was offered a maid by her boyfriend as well. She told him, "No need!...I can do it!" Well long story short, she didn't and that was spanking number two. Next, there was the dog she had made arrangements to pick up... after her spankings! She never told her boyfriend about it. This was spanking number three and the making of a very sore bum for our lovely British covergirl!
After she knows what to expect I march her over to a stool and put her over my lap. I yank down her workout outfit. ( get it...Yank) Then introduce her to the viatmin e oil. She actually said, "Won't that make it hurt more?" I love the beauty and brains types. Martina has both. It was kind of a shame I had to blister her.
With the egg timer poised, I then tell her that she would receive a three minute spanking. I give her a bottom bruising spanking. The above picture was after her first...OF THREE! She is told afterwards to go to the kitchen and change into the outfit there. She walks pants down with her red bottom ablaze!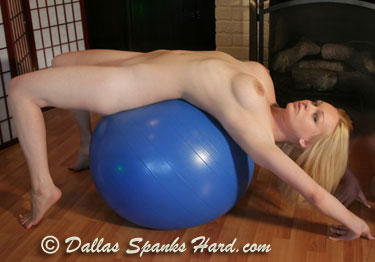 Doesn't mean I didn't make her sweat a little...see above.

When I come into the kitchen. Martina is dressed only in a tiny apron... pumps...and some retro rubber gloves. I take her over my knee for her second spanking which really has her screaming! When she forgets to say "Yes Sir"... I call her on it. She yells out at the top of her lungs, "YES SIR!...YES SIR...I'll be good!" When she is let up, her bottom was throbbing and CRIMSON. Two down... One to go! I make sure to do little talking to's to make sure she is learning from every spanking she gets!
I don't know what it is about some women. No matter how much it hurts and they fear it, they still test sometimes. Martina made the huge mistake of sneaking off outside...WITHOUT TELLING ME. She put on her bikini and was smoking outside when I finally found her. I march her inside as I swat her bottom all the way around the pool and inside. I lead her in and go right to the next spanking. She starts to do the routine of "E" and timer automatically. I really turn it on as this bikini clad beauty squirms with great determination. I hold her in place and BLISTER her Bottom as she deserved to be blistered. I have her lay on her tummy afterwards and do a post spanking interview as you get every angle imaginable of this delightful SPANKED HARD BOTTOM.
This is the first ever disciplinary spanking for this two time covergirl and first ever English model to win the award in America! Her covers have circulated globally in the millions! Now you get to see her get the spanking (three spankings) of her life! I did an interview with Martina prior to her spankings as well, a Martina who grew more nervous as we spoke of what was coming! THIS MADE IT EVEN MORE AMAZING!