Voted Hardest M/F Spanking of the Year!
When Audrey Knight decided to make a trek back to my neck of the woods.
She finds out what it means to make a return trip!
Audrey had requested of me ( after seeing a myspace photo wearing a cowboy hat ) That i wear one for our new shoot. I obliged her...if she wore a cowgirl on her way to a boot-scootin' boogie.she obliged me as well. what we filmed later was epic! I think this could be one of my best...if not very best yet! here is why...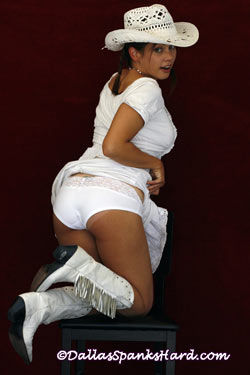 Everyone knows by now that i will have models tip their own hats where naughty behavior in their personal lives lie. When one of the things she mentioned was leaving the gas pilot on for a weekend....coming home to the smell of "natural" that could choke a horse...well, i knew she was in for a hide tanning of The monumental kind!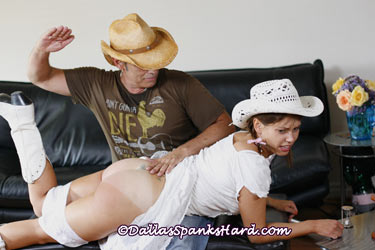 I start with a timer...not just any timer...a 15 minute timer! I give her a non stop spanking that will have you cheering as you watch this naughty cowgirl squirm and buck! The noise from my hand sounded like thunder mixed in with cracks of lightning! I decided to give a nice down home country feel to my next choice of implements!
Tears you want folks? Well, tears you got!

Voted the Hardest M/F Scene of the Year!
I have the beautiful cowgirl get on her knees on a white leather chair. I pull my belt through the loops ( just like the girls like ) and use it long and hard! Just when she thought that was over...out comes a brand new antique razor strap on her oiled skin...the tears gush from her eyes. Her cries will be like counrty music to your ears! I had a real life friend write to me and request 10 extra hard ones... that really chapped her hide!
I then take her back over my knee..this time for a hairbrush spanking that once again has her howling like a banshee! I mean this brush stings! Sabrina was only to happy to offer it out of her personal implements for me to use on our tan lined bad girl. Then on to classic paddle position! I lay out implements. My large paddle with holes ( pictured above) My huge paddle strap i call " thumper" for apparent reason. A plexi-cane i used most recently on Amelia Jane. I then let her take 30 swats with my left hand ( since my right hand was a little out of commission from that 15 minute bun blistering! she takes the thirty on her now kentucky fried bottom! A hug and off to bed for this naughty one! One of the best parts is watching her walk bare bottomed to choose the next implement... you know what they say about destiny.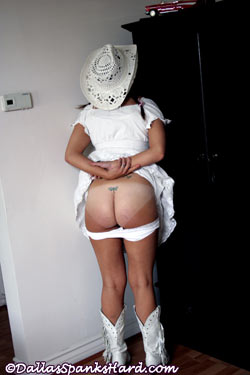 This dvd has it all! I mean some of the most fast & furious spanking ever. Hard domestic style implements! a super cute audrey knight and real tears more than once! Ther is even a few funny moments that will crack you up! This could quite possibly be my best yet! Sabrina has added a really cool video movement menu with an added bonus slide show of unreleased pictures from her stay with us as well!